FABRIC BUILDINGS | HOOP BUILDINGS
Wheat Storage has never been safer and easier with our fabric storage structures from Freedom Buildings.
With our confinement experts, you have the options to customize the foundation, length, width, profile, and interior layout to best fit YOUR needs.  There are many variables in designing a turn-key facility and we make sure that you get what works for YOU.
Since you can customize so much of your hoop building, you have the ability to create a livestock barn that truly fits within your budget. Our experts are here to help you pick the best options.
Freedom Buildings not only helps you develop the outside of your building but the interior as well. This means we'll help coordinate everything from fencing, pen layout, walls, doors, feeding troughs, and more.
WHY CHOOSE A FABRIC BUILDING FOR WHEAT STORAGE?
Fabric Grain storage buildings offer a clear span space that will keep your materials protected from moisture and the elements. Large entry ways make loading and unloading your wheat easier and provide plenty of space for any equipment.
Fabric wheat storage buildings are designed to be flexible and allow for the maximum storage space. Our buildings accomplish this by using no interior support columns, which means you have an open clear span space to store your wheat.
Open space also makes it easier to access your wheat with any equipment. Our buildings have wide entry ways and high ceilings to make access easy and convenient.
Interested in learning more about what a clear span space can do for you? Contact our expert team today to learn more information. We are here to help design your perfect storage space.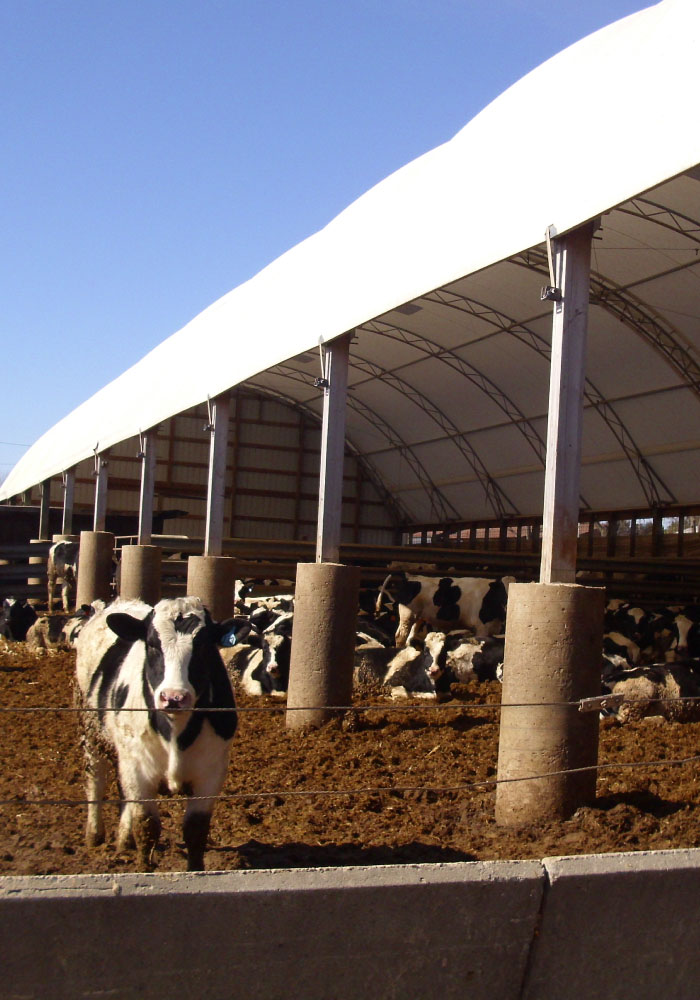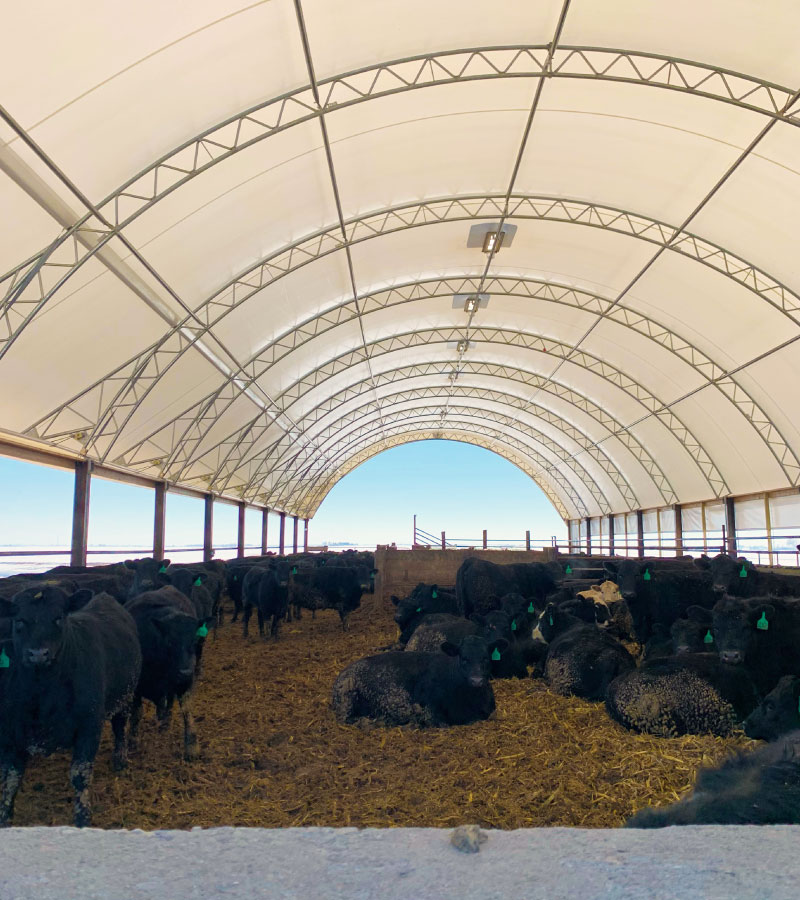 Freedom Buildings fabric wheat storage structures provide a dry environment for your product.
By providing proper ventilation, our buildings can reduce moisture and ensure the quality of your wheat. Also, our fabric buildings are built for any weather conditions to ensure your wheat is safe from the elements.
Here are just a few benefits of a fabric wheat storage building:
Protection from Harsh Weather
Protection from Moisture
Protection from Insects
Protection from Wildlife
Our buildings also provide natural light so that you can keep a close eye on your product throughout the day. Contact our team today to learn more about our fabric buildings. We are here to help!
Our fabric wheat storage buildings are tested and proven to last for decades to come. We worked hard to make our buildings cost effective while using durable and reliable materials that are easy to maintain.
Our buildings are covered with fabric covers that are designed to withstand the harshest weather conditions. Our covers also allow natural light into your building while blocking harmful UV rays that can damage your product. To prevent corrosion, our structural materials are treated with a hot dip galvanized mixture.
We know that a new storage building is a huge investment. That's why durability is so important when choosing how to store your wheat. Let us help you design a new building to fit your needs and your budget.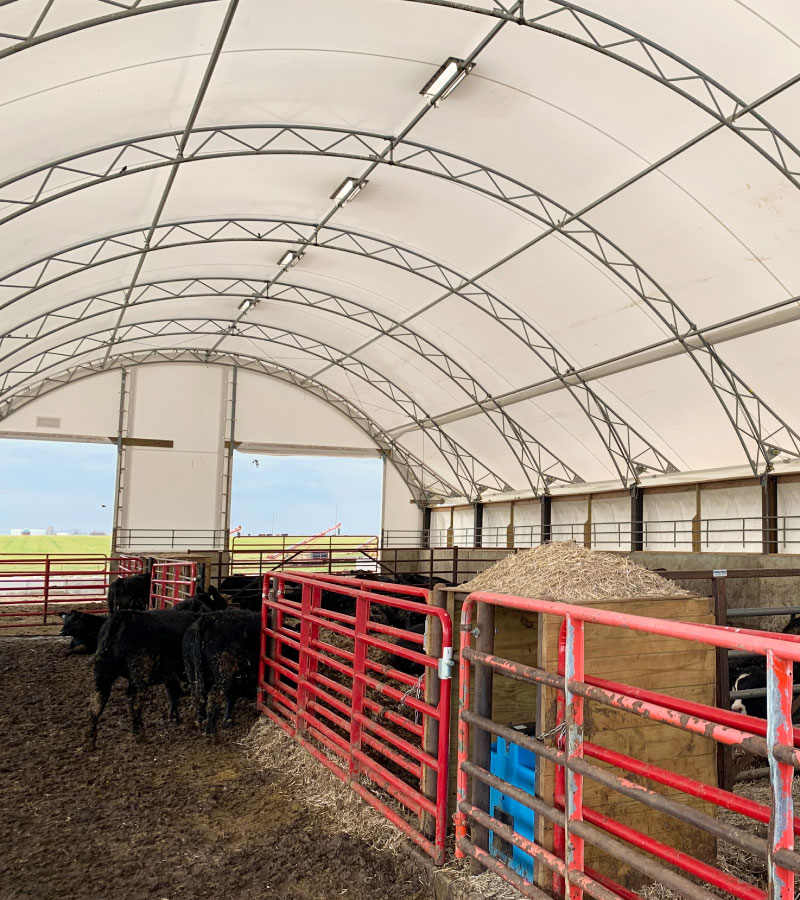 WHAT OUR CUSTOMERS SAY...
"We had three structured recovered, including one that is 62' X 140'. Freedom Buildings was our choice. The crew arrived on time and was courteous, efficient and hardworking. Everyone was wonderful to work with. We are very pleased with the structures."
"Tom and Freedom Buildings were great to work with. They kept us informed from the very beginning all the way to the end. The process was very simple, and we couldn't be happier with the quality of materials and the work performed."
"I am very satisfied with my Freedom hoop building put in about a year ago. It stood the test when Derecho wind hit last summer. Very well constructed. I would build one like it again."
INTERESTED IN YOUR OWN FABRIC BUILDING FOR WHEAT STORAGE?
You have questions, we have answers.
Our team of experts are here to answer any additional questions you may have about our livestock barns options.
To contact our team of experts, you can either complete the form here or call our office at (319) 777-8093.