FABRIC BUILDINGS | HOOP BUILDINGS
Whether you're storing your farm equipment or mountains of hay and grain, we have weatherproof Ag Buildings available to fit any need.
Since our AG Buildings do not require interior beams or columns for support, we can offer a clear-span building space to maximize your commodity storage capabilities.
All of our buildings provide reliable protection from mother nature. Which means your commodities are protected from the harshest weather all year round.  
Due to the vast number of customizations available for fabric buildings, you can select your own high quality AG building that fits within your budget.
BENEFITS OF A FABRIC AGRICULTURE BUILDING
Agricultural storage requires a large amount of protected space, one that is easily accessed by various tools and farm equipment. Fabric covered Ag buildings are the perfect solution. Not only does it provide adequate storage space, but it also requires less maintenance and up-keep throughout the year.
We understand your commodities and tools are extremely valuable to you and your company.
Which puts even more emphasis on those items being stored in a safe and reliable environment, one that is weatherproof.
Our fabric covered Ag buildings are designed to handle the most severe weather conditions, whether it be hail, high winds, snow, and more. Your fabric covered Ag building can withstand it all.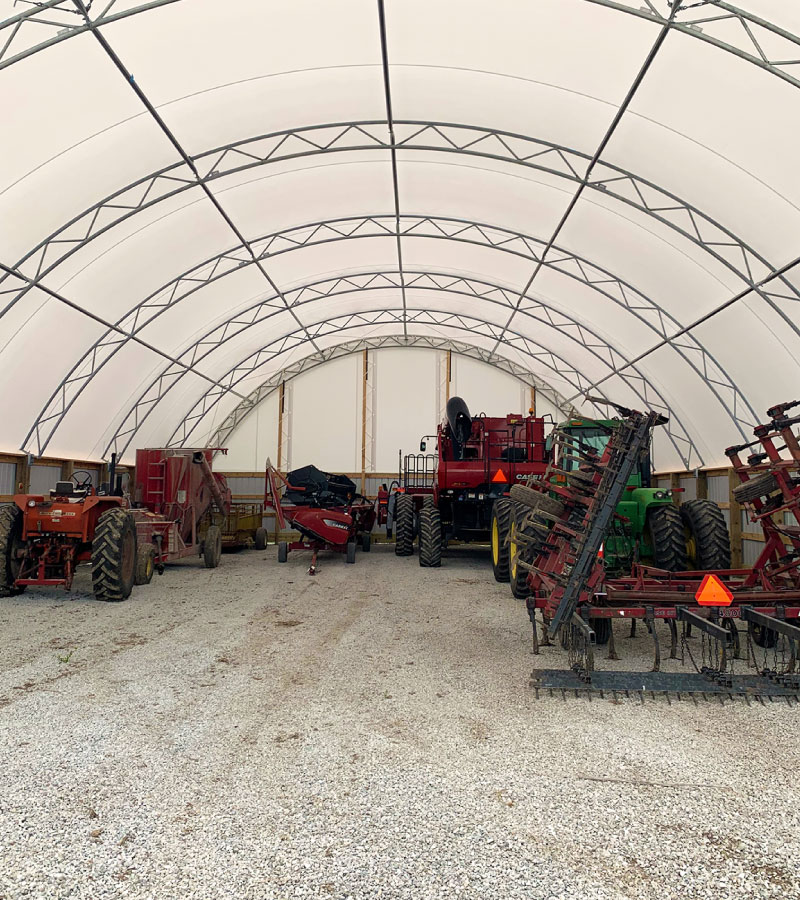 Freedom Buildings has installed thousands of Ag Buildings across the United States.
No matter what industry, our buildings are versatile and able to accommodate your unique storage concerns.
Some Ag Buildings we've built:
Hay Storage
Grain Storage
Fertilizer Storage
Commodity Storage
Grain Storage
Wheat Storage
Machinery/Equipment Storage
We love the opportunity to create custom Ag buildings. If you have a unique storage situation, we invite you to speak with our team of experts to discuss all of the storage options available to you.
Every Ag building is designed exclusively to solve your unique storage needs.
Which means, we keep your storage needs in mind every step of the way to ensure your building is exactly what you need.
Additionally, our team of experts will create a 3D model of your fabric covered Ag building so you know exactly what features your storage building will have and how it will look on your property.
This means you get exactly what you want.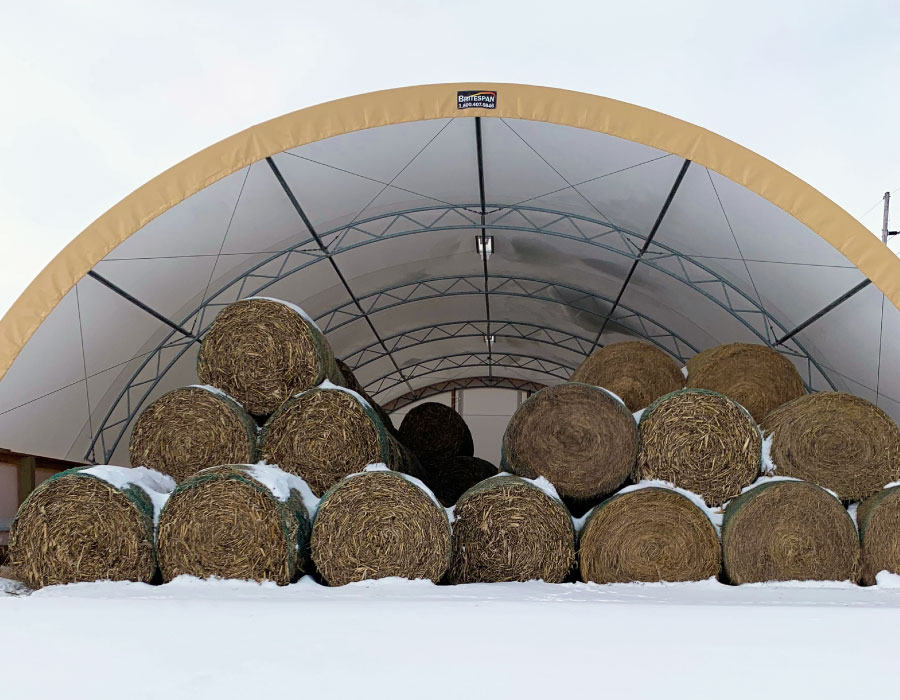 WHAT OUR CUSTOMERS SAY...
"Freedom created a beautiful custom design, but also took responsibility for 100% of the management of the construction due to my frequent travel. They stuck to the budget and time schedule and my arena now attracts visitors and interested parties due to its unique and attractive design. Most importantly, the horses love the openness and totally shadow free design. Service has been excellent although rarely needed due to the durability and strength of the overall design. We could not be happier."
"Our hoop barn has been a life saver. We used this structure essentially all year round. We calve in the early spring and it helps eliminate the struggles of mud, snow, and severe winds we experience in Iowa. We also work all our cattle in our working facility inside the hoop. This has made our life easier and safer because it's dry and well lit. We simply wouldn't be able to run as many cows without this building."
"Your crew finished today. They were pleasant and VERY efficient. They kept me informed and were a pleasure to work with. I would highly recommend them anytime. I do not say this lightly as I have over 40 employees and believe me it is hard to find good people."
INTERESTED IN YOUR OWN AG BUILDING?
You have questions, we have answers.
Our team of experts are here to answer any additional questions you have about our fabric covered Ag Buildings.
To contact our team of experts, you can either complete the form here or call our office at (319) 777-8093.