FABRIC BUILDINGS | HOOP BUILDINGS
Freedom Buildings provides the highest quality livestock barns that promote a healthy environment for all your livestock. 
With our confinement experts, you have the options to customize the foundation, length, width, profile, and interior layout to best fit YOUR needs.  There are many variables in designing a turn-key facility and we make sure that you get what works for YOU.
Since you can customize so much of your hoop building, you have the ability to create a livestock barn that truly fits within your budget. Our experts are here to help you pick the best options.
Freedom Buildings not only helps you develop the outside of your building but the interior as well. This means we'll help coordinate everything from fencing, pen layout, walls, doors, feeding troughs, and more.
WHY CHOOSE A FABRIC LIVESTOCK BARN?
We know the health of your animals is a top priority. The good news is that Fabric Livestock Barns are naturally designed to improve the health of your livestock. This is accomplished by the increased ventilation, dry bedding, air circulation, and natural lighting created by the shape, structure, and cover material only found in a fabric livestock building. To make things better, fabric buildings are durable enough to protect your animals from outside elements, such as weather and predators, making fabric livestock barns the perfect environment for your livestock to thrive. We pride ourselves on better rate of gains due to animal comfort.
There are many natural advantages of using a fabric livestock building versus a traditional building. These advantages include increased ventilation, natural lighting, and rate of gain: 
Increased Ventilation
Not only do our fabric buildings protect your livestock from the outside elements, but it's also designed to circulate the air in both sides and out of the peak, not only making a better climate for your livestock, but extracting the moisture out of the building to keep a dryer bed pack.
Natural Light
Another unique feature of our fabric buildings is the amount of natural light provided to your animals. All of our covers provide UV protection, which means you get all of the benefits of sunlight without the risks.
Rate of Gain
Fabric buildings have shown to produce better rate of gains on less feed.  We design our building for comfortable animals.  Animal comfort is achieved by superior living area and well ventilated air.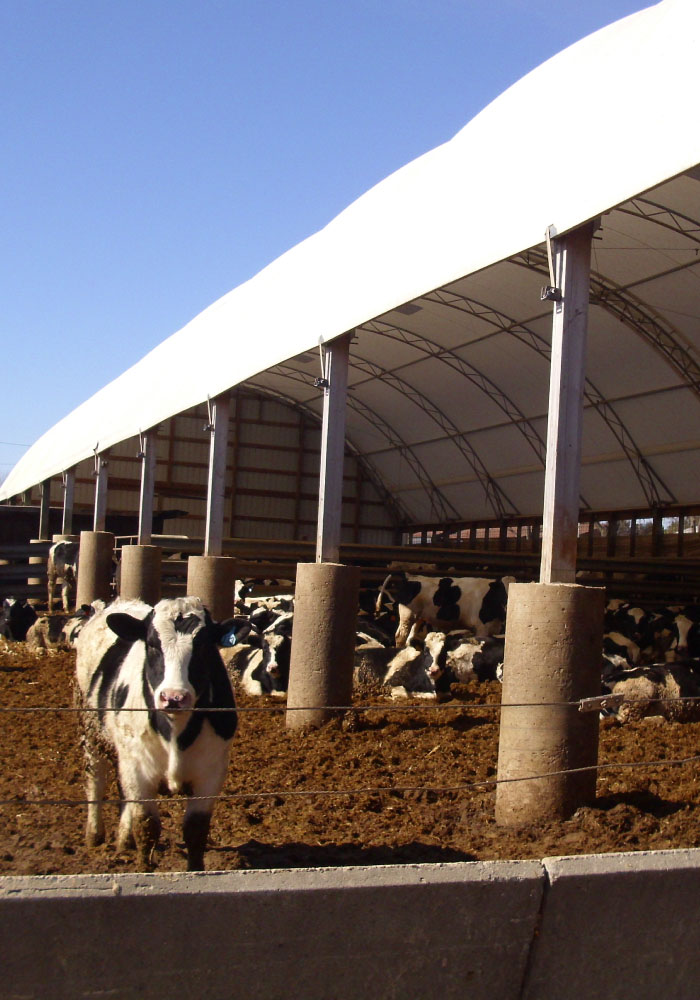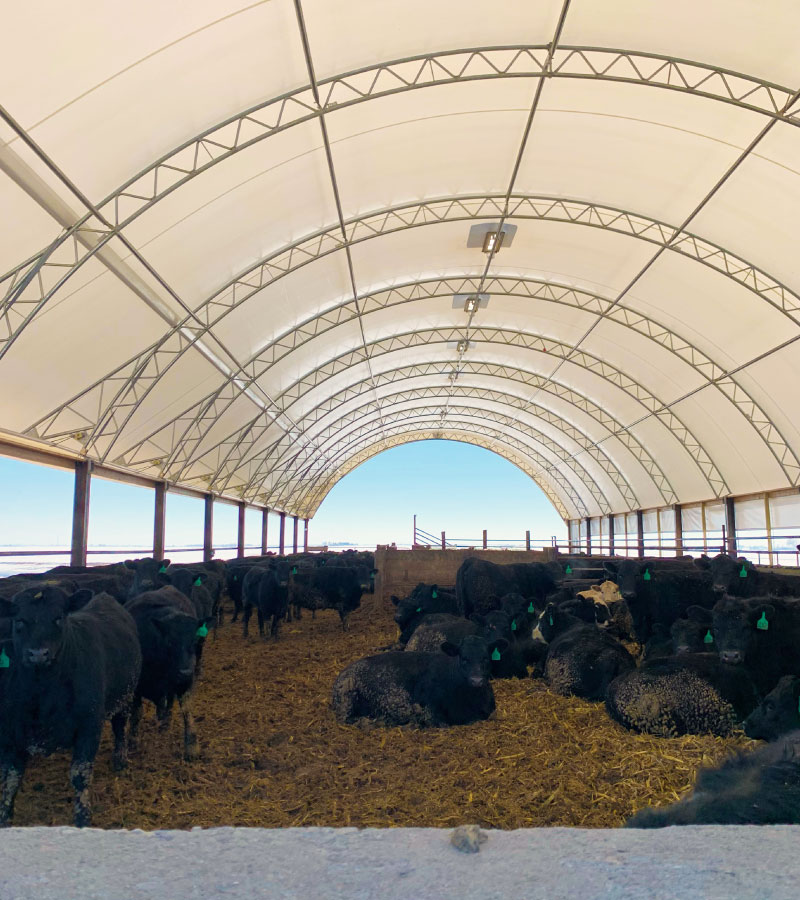 Freedom Buildings provides a variety of customizable options for your livestock barn.
These customizations include:
Sizing
Building Profile
Expansions
Cover Material
Foundation Options
Interior Items
Working Facilities
Manure Storage
Don't worry, our team of experts will create a 3D model of your livestock barn so you know exactly what features your barn will have and how it will look on your property.
This means you get exactly what you want and exactly what your livestock needs.
DESIGNED FOR ALL LIVESTOCK
Our fabric livestock barns are perfect for creating a safe and healthy environment for many different types of animals.
This means our team of experts specialize in creating multiple types of livestock buildings, such as:
Finishing Barns
Cow/Calf Facilities
Backgrounding Facilities
Dairy Buildings
Sheep Buildings
Goat Facilities
Swine Buildings
We pride ourselves for being more than just a builder, we've grown up around livestock and understand the unique challenges you face daily. If you have any questions about livestock hoop buildings, don't hesitate to give us a call, we are always here to help!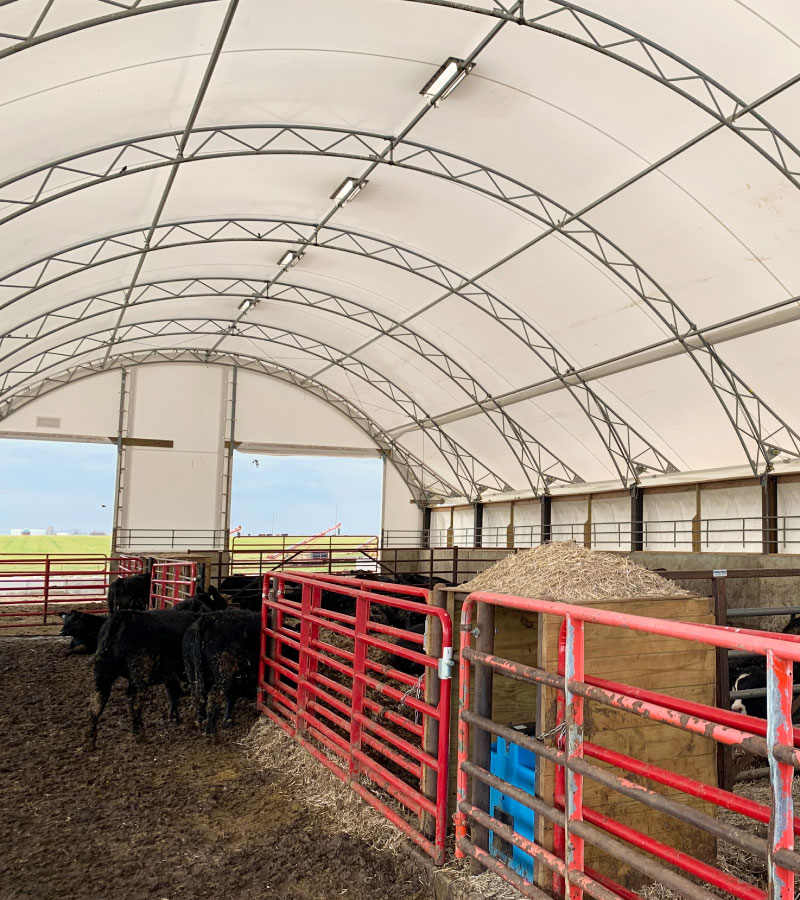 WHAT OUR CUSTOMERS SAY...
"Our hoop barn has been a life saver. We used this structure essentially all year round. We calve in the early spring and it helps eliminate the struggles of mud, snow, and severe winds we experience in Iowa. We also work all our cattle in our working facility inside the hoop. This has made our life easier and safer because it's dry and well lit. We simply wouldn't be able to run as many cows without this building."
"I purchased a Hoop Building from Freedom Buildings in 2019. The folks are affable and easy to work with. The construction and quality hold up extremely well under adverse conditions, especially wind. I highly recommend these buildings for all kinds of weather conditions."
"I am very satisfied with my Freedom hoop building put in about a year ago. It stood the test when Derecho wind hit last summer. Very well constructed. I would build one like it again."
INTERESTED IN YOUR OWN LIVESTOCK BARN?
You have questions, we have answers.
Our team of experts are here to answer any additional questions you may have about our livestock barns options.
To contact our team of experts, you can either complete the form here or call our office at (319) 777-8093.