FABRIC BUILDINGS | HOOP BUILDINGS
Our Fabric Salt Storage Buildings will keep your salt safe, dry, and protected while providing you easy access to your materials.
Fabric salt storage buildings are designed to withstand any weather conditions while maintaining a consistent and comfortable temperature inside. This means more comfortable employees and lower energy costs.
You can completely customize your fabric building to accommodate all your current and future needs. Our team can also create a 3D model of your building so you can see exactly what the space will look like.
Our team loves helping our customers to create the perfect space for their salt storage. We work with you to ensure that this process is enjoyable. We also want this project to fit in your budget and can provide financing options.
WHY CHOOSE A FABRIC BUILDING FOR SALT STORAGE?
Our fabric salt storage buildings are designed to be highly durable and capable of storing mass quantities of salt and other materials. Additionally, fabric buildings provide superior ventilation to prevent moisture from destroying your salt. Which means you can save and use more of your salt throughout the year. 
In order to provide maximum storage capacity, our fabric salt storage buildings use no interior columns for support. This means that you get a clear span space to store any amount of salt.
This space also allows for easy access to your salt using any equipment. We accomplish this by using large entry points and high ceilings in all our buildings. We can customize your building to fit the dimensions that you need.
Learn more about what a clear span space can do for your business. Contact our team of professionals today to learn more information.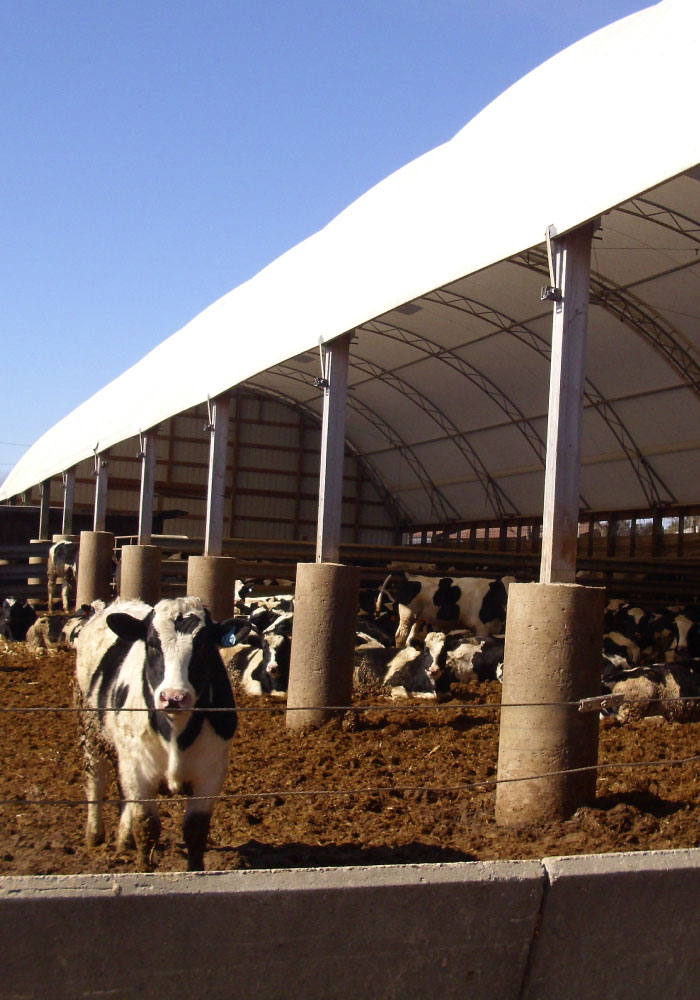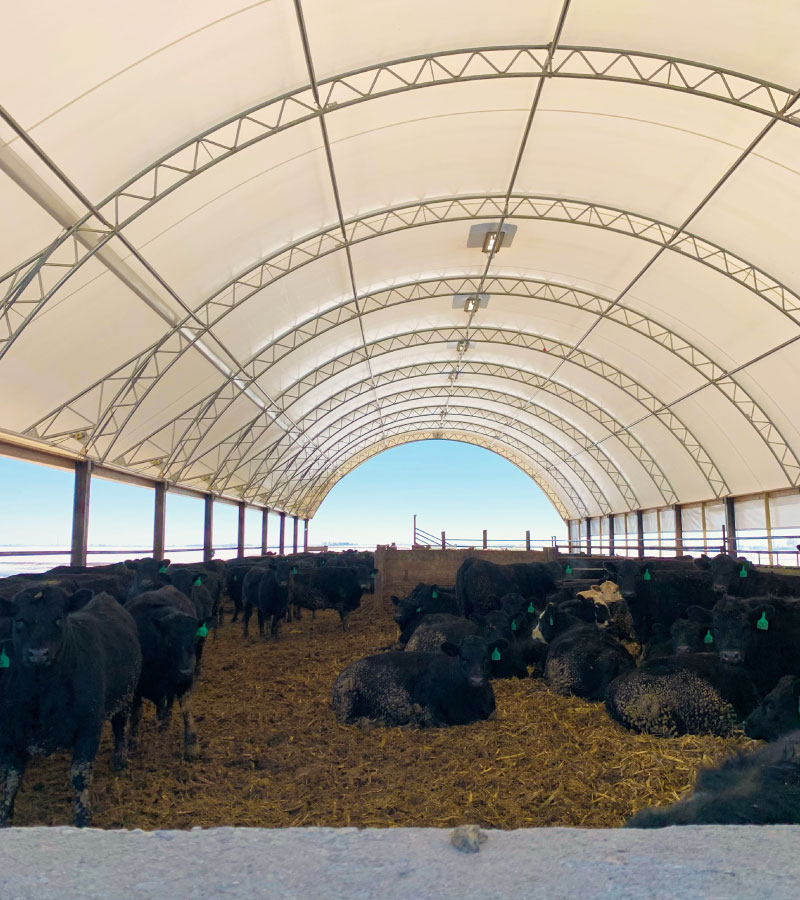 Fabric buildings provide three main benefits that help you retain more salt throughout the year.
First, fabric salt storage buildings are designed to provide excellent ventilation to keep your salt dry. In other words, this added ventilation keeps you from losing salt to unnecessary moisture.
Second, our buildings also keep your salt protected while not letting any salt leach into the ground or into any water sources nearby.
Third, to keep your salt protected, our buildings are built to withstand any weather conditions in any season. Which means you don't have to worry about any harsh weather ruining your product.
At Freedom Buildings we want to build you a salt storage building that will last for decades. That's why we use high quality materials that are built to last, easy to maintain, and cost effective.
Our fabric is durable while providing you with natural light during the day. This natural light provides a more comfortable working environment while blocking out harmful UV rays from the sun.
Also, due to the corrosive nature of salt, we treat all Metal used in construction with a hot dip galvanized mixture. This protects the metal from corrosion and maintains the structural integrity of your building for decades to come. 
Contact our team to learn more about how a fabric storage building is a great investment for your property. Our team can even create a 3D model of your building.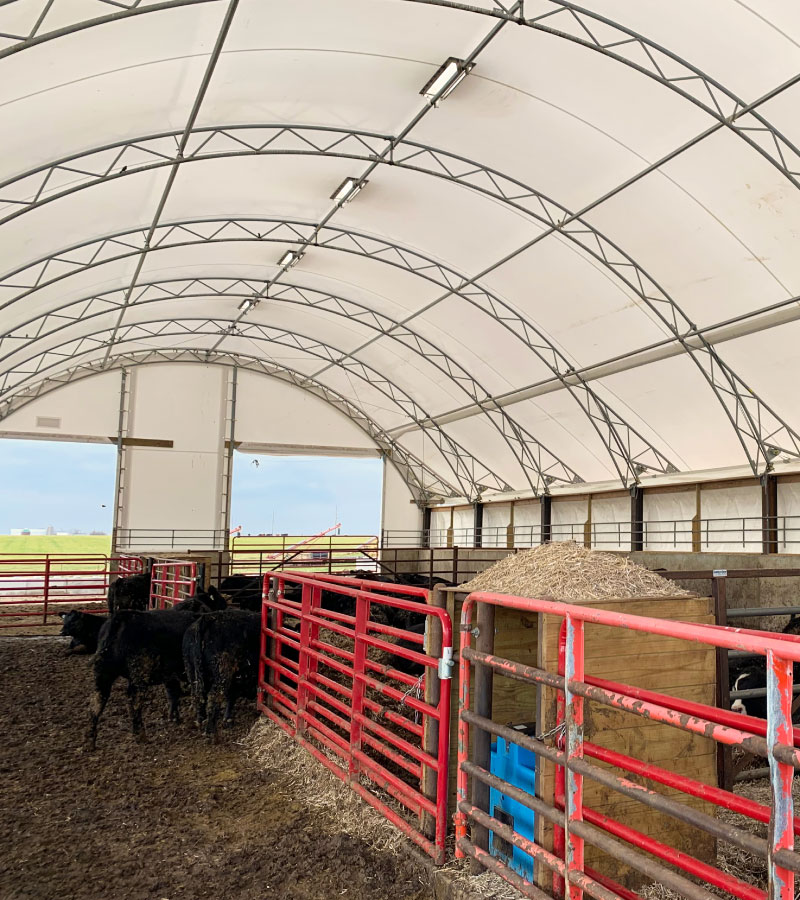 WHAT OUR CUSTOMERS SAY...
"Our hoop barn has been a life saver. We used this structure essentially all year round. We calve in the early spring and it helps eliminate the struggles of mud, snow, and severe winds we experience in Iowa. We also work all our cattle in our working facility inside the hoop. This has made our life easier and safer because it's dry and well lit. We simply wouldn't be able to run as many cows without this building."
"I purchased a Hoop Building from Freedom Buildings in 2019. The folks are affable and easy to work with. The construction and quality hold up extremely well under adverse conditions, especially wind. I highly recommend these buildings for all kinds of weather conditions."
"I am very satisfied with my Freedom hoop building put in about a year ago. It stood the test when Derecho wind hit last summer. Very well constructed. I would build one like it again."
INTERESTED IN YOUR OWN FABRIC BUILDING FOR SALT STORAGE?
You have questions, we have answers.
Our team of experts are here to answer any additional questions you may have about our livestock barns options.
To contact our team of experts, you can either complete the form here or call our office at (319) 777-8093.