FABRIC BUILDINGS | HOOP BUILDINGS
Fabric-covered indoor riding arenas from Freedom Buildings offer the perfect environment for your horses and riders.
We use high quality fabric covers that absorb sound and cut back on harsh echoes that can interfere with the performance of your horses. These covers also allow natural light into your building and eliminates shadows.
We take pride in having excellent customer service. Our team is with you from start to finish and loves helping you come up with unique solutions to any problem you are facing. We can help you create the perfect fabric riding arena.
Freedom Buildings is your one-stop-shop for everything your riding arena may need. We can completely customize your building by adding stalls for your horses, viewing areas, storage, tack rooms, and more. We ensure your building is finished and ready for use.
WHY CHOOSE A FABRIC BUILDING FOR RIDING ARENAS?
Fabric riding arenas offer the perfect environment all year round to work with your horses. Our buildings offer excellent ventilation while providing you with protection from the elements in any season. We also help cut down on energy costs by providing natural light during the day.
One of the unique features of a fabric building is the lack of interior columns throughout the building. This provides you with a clear open space to accommodate a variety of floor plans. This open space allows you to completely customize your riding arena to fit your specific needs.
Clear span space also provides you with high ceilings and large entry points. This comes in handy for utilizing equipment to grade and prep the surface of your building. Our buildings provide plenty of space to accommodate any equipment you may need.
Contact our team of professionals today to learn more about what clear span space can do for your riding arena. We can even create a 3D model of exactly what your customized building will look like before we begin construction.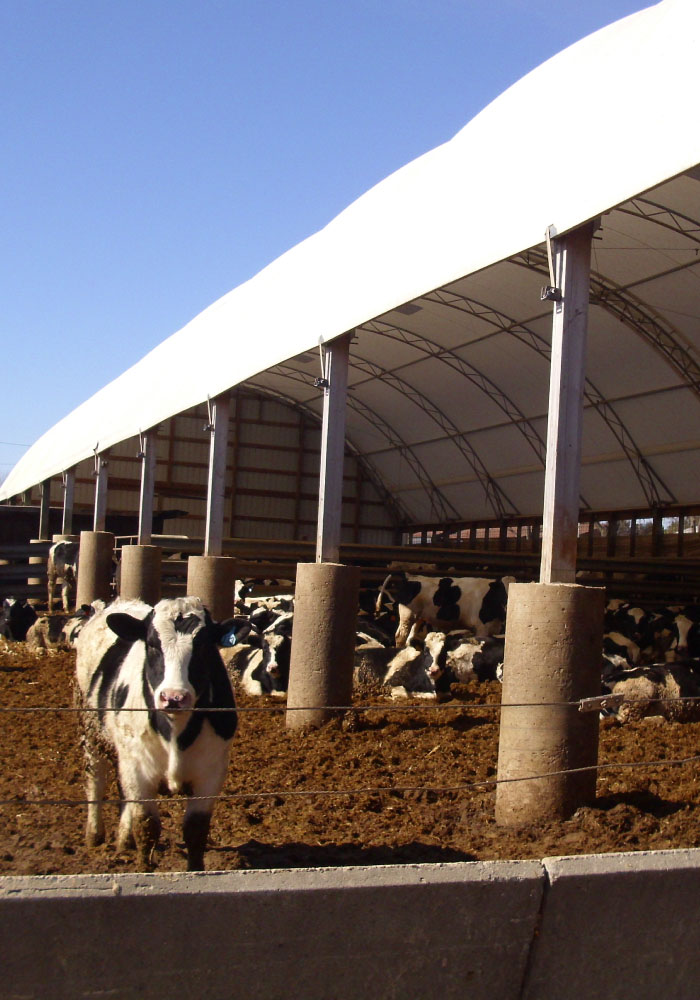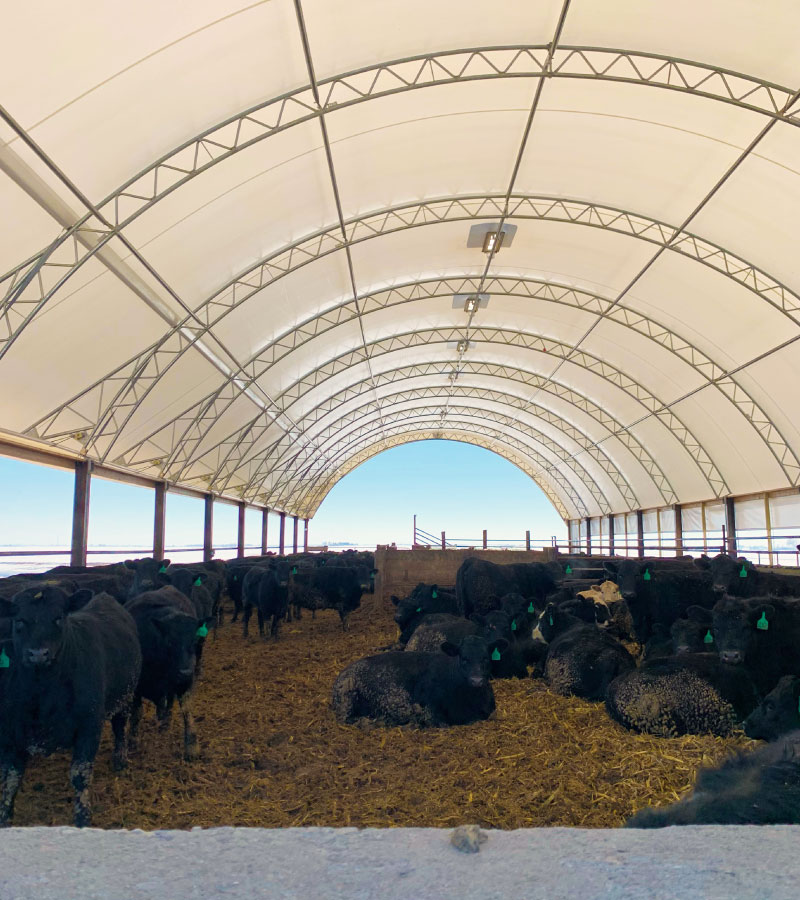 Fabric buildings are a great option to keep your facility running all year round. The interior of your building is climate controlled and protected from the elements so you can keep training even in harsh weather conditions.
Also, with the option of having stalls for your horses, there is no need to transport horses to and from your building.
Our fabric covers allow natural light into your building while blocking harmful UV rays from the sun. This provides you with plenty of natural light while eliminating shadows, glares, and bright spots that can spook your horses.
Our covers also absorb sound and cut down on echoes, so you have great sound quality for your riders and horses.
Durability is a huge factor when investing in a new riding arena. At Freedom Buildings, our top priority is creating a customized fabric building that is going to last for decades to come. For this reason, we use the highest quality and most durable materials during construction.
Our fabric covers are highly durable while remaining easy to maintain and affordable. These covers offer excellent protection from the sun and can withstand any weather conditions.
To prevent corrosion, the metal used in construction is treated with a hot dip galvanized mixture. This ensures that your riding arena remains structurally strong and dependable.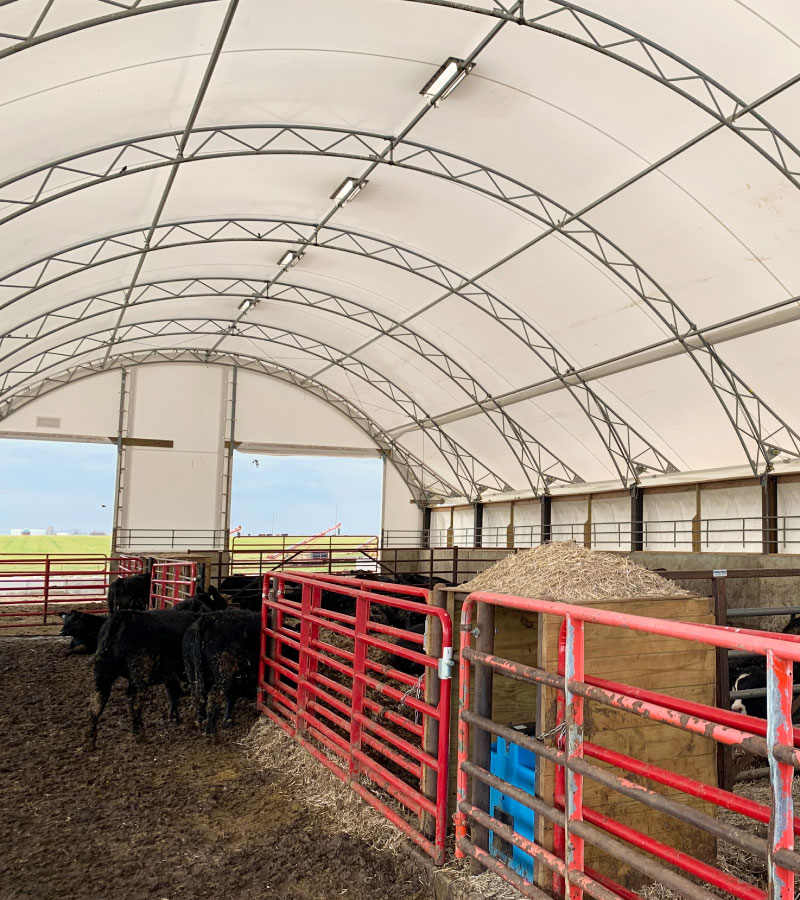 WHAT OUR CUSTOMERS SAY...
"Our hoop barn has been a life saver. We used this structure essentially all year round. We calve in the early spring and it helps eliminate the struggles of mud, snow, and severe winds we experience in Iowa. We also work all our cattle in our working facility inside the hoop. This has made our life easier and safer because it's dry and well lit. We simply wouldn't be able to run as many cows without this building."
"Several years ago we contacted Freidman (Now Freedom) because we were very interested in their canvas style arena canopies! They created a beautiful custom design, but also took responsibility for 100% of the management of the construction due to my frequent travel. They stuck to the budget and time schedule and my arena now attracts visitors and interested parties due to its unique and attractive design. Most importantly, the horses love the openness and totally shadow free design. Service has been excellent although rarely needed due to the durability and strength of the overall design. We could not be happier."
"I purchased a Hoop Building from Freedom Buildings in 2019. The folks are affable and easy to work with. The construction and quality hold up extremely well under adverse conditions, especially wind. I highly recommend these buildings for all kinds of weather conditions."
INTERESTED IN YOUR OWN FABRIC BUILDING FOR RIDING ARENAS?
You have questions, we have answers.
Our team of experts are here to answer any additional questions you may have about our livestock barns options.
To contact our team of experts, you can either complete the form here or call our office at (319) 777-8093.