FABRIC BUILDINGS | HOOP BUILDINGS
Freedom Building's grain storage structures are designed to provide a dry, safe location that's perfect for grain storage.
Hoop buildings create a clear span space with no interior beams. This provides you with an open space that provides easy access to your grain and equipment, making the loading and unloading process a breeze. 
Our team of experts work with you to design and develop the perfect fabric grain storage structure. A few customizations include the foundation, length, width, profile, and interior equipment layout to best fit YOUR needs.
Every piece of the metal frame has been hot dip galvanized, which prevents corrosion and extends the life of the building. Additionally, the fabric covers are tested and built to withstand the harshest weather.
WHY CHOOSE A FABRIC BUILDING FOR GRAIN STORAGE?
Freedom Buildings grain storage buildings offer a clear span space. This clear span space is important because it maximizes the amount of storage space you get in each building. Additionally, it makes it easier to customize the openings of your storage buildings, which means we can create larger openings for whichever equipment you use in the loading and unloading process of your grain. 
PROTECTION FROM THE ELEMENTS
Fabric buildings have multiple advantages in grain storage than other building types. First and foremost, fabric buildings provide incredible protection multiple elements.
This includes:
Protection from Harsh Weather
Protection from Moisture
Protection from Insects
Protection from Wildlife
Additionally, our grain storage buildings provide increased ventilation and natural light to help you maintain your grain throughout the year.
All these benefits lead to you having an incredible grain product that avoids any type of contamination.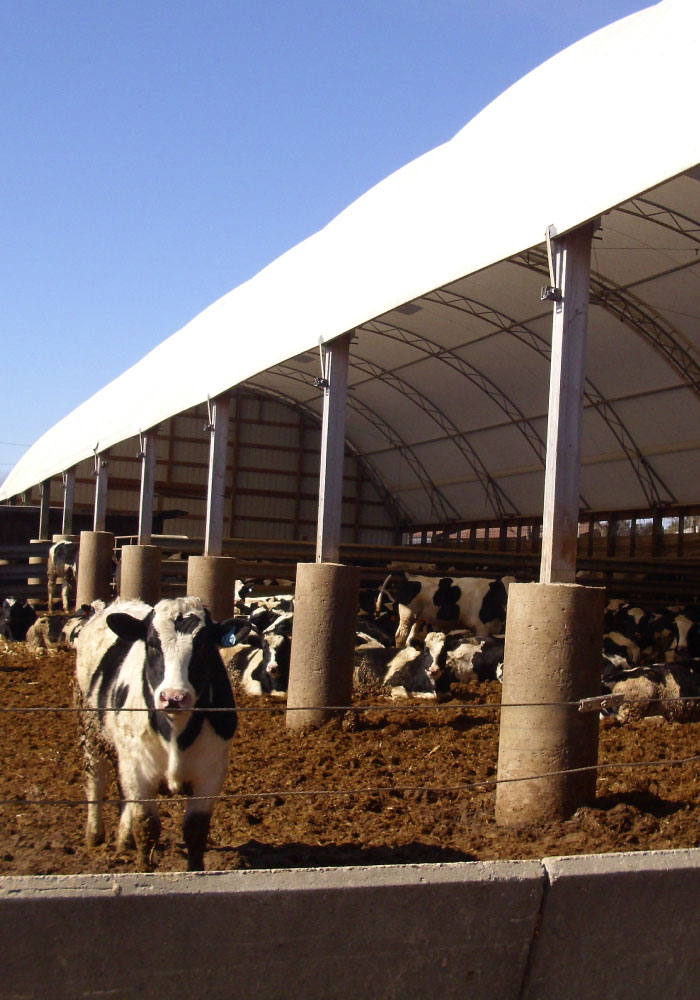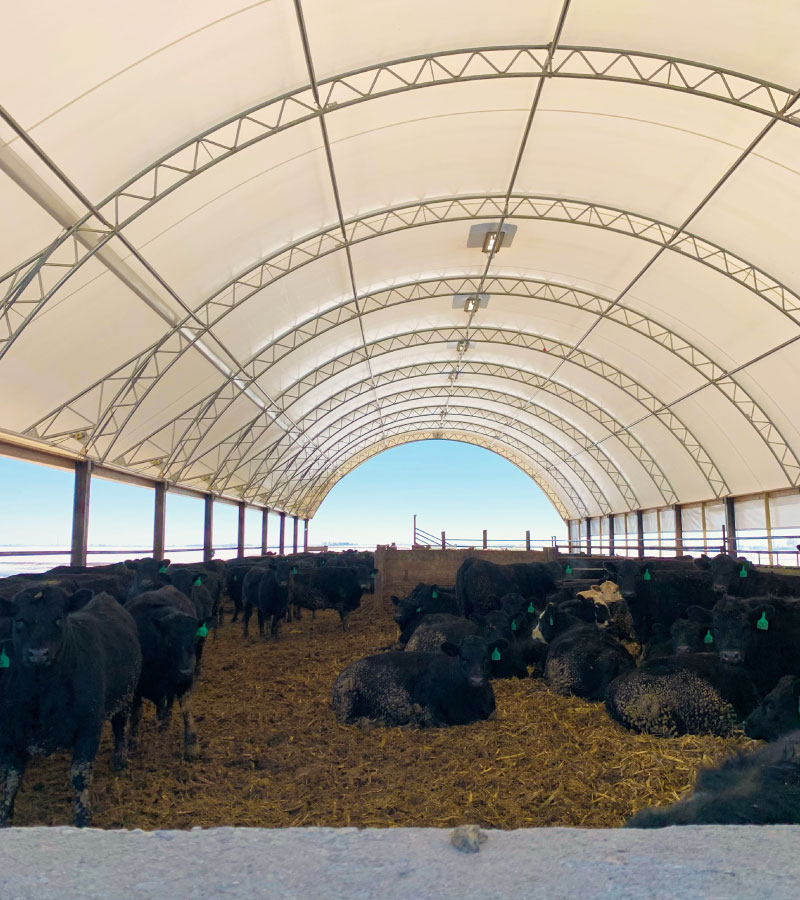 Our grain storage buildings are cost effective to build and offer a variety of customizations to fit your unique needs. Additionally, since our buildings provide exceptional natural light, you can also cut down on your energy costs required throughout the year.  
It's important to note, fabric buildings are designed to be durable and easier to maintain which reduce your maintenance costs required throughout the life of the building.
Lastly, since these buildings offer protection from harmful and destructive elements, you lose less grain throughout the year, which helps you maintain your bottom line.
We know that a major purchase can be stressful and seem overwhelming.
Don't worry, our team of experts will work with you every step of the way to make designing the perfect grain storage building simple.
We'll ensure you get the perfect storage building by taking the time to get to know you, your business, and your unique storage needs.
Once we understand all your unique needs, we'll build a 3D model of your structure before we even start construction. This will let you see exactly what your building will look like and what to expect.
Interested in learning more? Contact our team of professionals to get more information about what a fabric grain storage building could look like for you.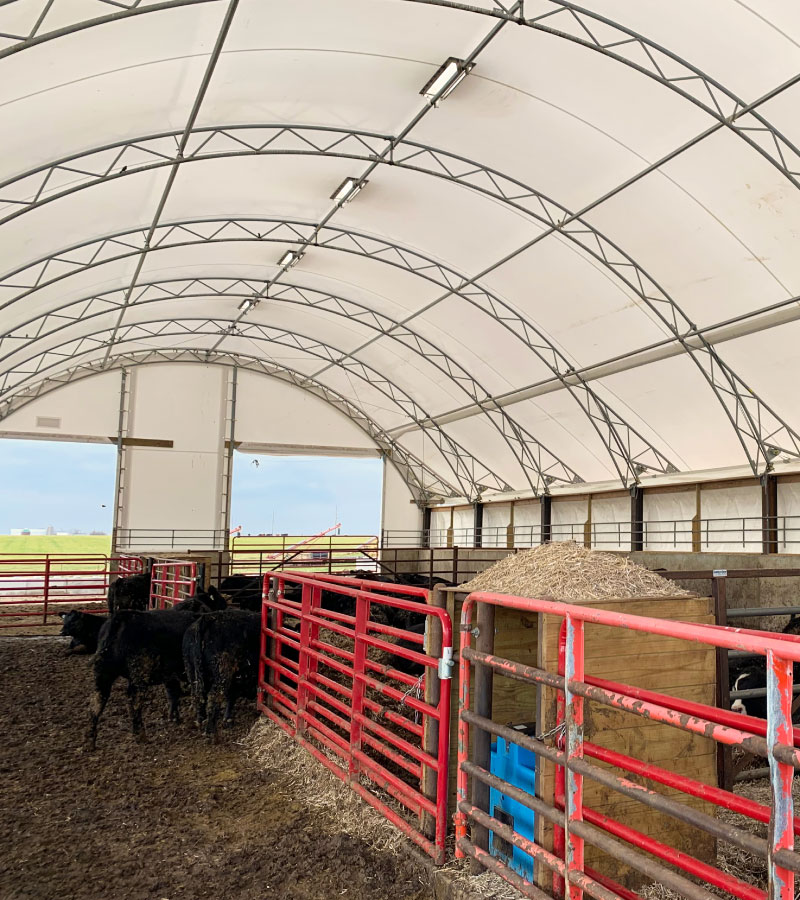 WHAT OUR CUSTOMERS SAY...
"Your crew finished today. They were pleasant and VERY efficient. They kept me informed and were a pleasure to work with. I would highly recommend them anytime. I do not say this lightly as I have over 40 employees and believe me it is hard to find good people."
"I purchased a Hoop Building from Freedom Buildings in 2019. The folks are affable and easy to work with. The construction and quality hold up extremely well under adverse conditions, especially wind. I highly recommend these buildings for all kinds of weather conditions."
"I am very satisfied with my Freedom hoop building put in about a year ago. It stood the test when Derecho wind hit last summer. Very well constructed. I would build one like it again."
INTERESTED IN YOUR OWN FABRIC BUILDING FOR GRAIN STORAGE?
You have questions, we have answers.
Our team of experts are here to answer any additional questions you may have about our livestock barns options.
To contact our team of experts, you can either complete the form here or call our office at (319) 777-8093.