FABRIC BUILDINGS | HOOP BUILDINGS
Help us take the mess out of storing your fertilizer with a fabric Fertilizer Storage building from Freedom Buildings.
There are many reasons that choosing a fabric fertilizer storage building is the most cost-effective option. Our buildings are designed to be energy efficient, easy & affordable to maintain, and keep your product safe which helps your bottom line.
We pride ourselves on providing excellent customer service throughout the entire purchasing and construction process. Our expert team will work with you to ensure that this process is stress-free, fits all your needs, and is within your budget.
Our fabric fertilizer storage buildings are completely customizable to fit your current and future storage needs. You can customize the foundation, length, width, profile, and interior equipment layout to best fit your needs.
WHY CHOOSE A FABRIC BUILDING FOR FERTILIZER STORAGE?
Our storage buildings are designed to protect your fertilizer from harsh weather while also providing proper ventilation that keeps your fertilizer dry throughout the year. Our fabric fertilizer storage buildings are also designed to have plenty of clear span space for storage while providing you easy access to your fertilizer.
Freedom Building's fabric fertilizer storage buildings are designed to provide you with the maximum storage space possible. We accomplish this by designing our buildings to have no interior support columns, which provides a clear span space for storage.
Our buildings also have large entry points that are designed to accommodate any equipment that is needed for loading and unloading of your fertilizer. We can completely customize your building to fit the equipment used at your facility.
Contact our expert team and we can create a 3D model of what a custom designed fabric building would look like for you.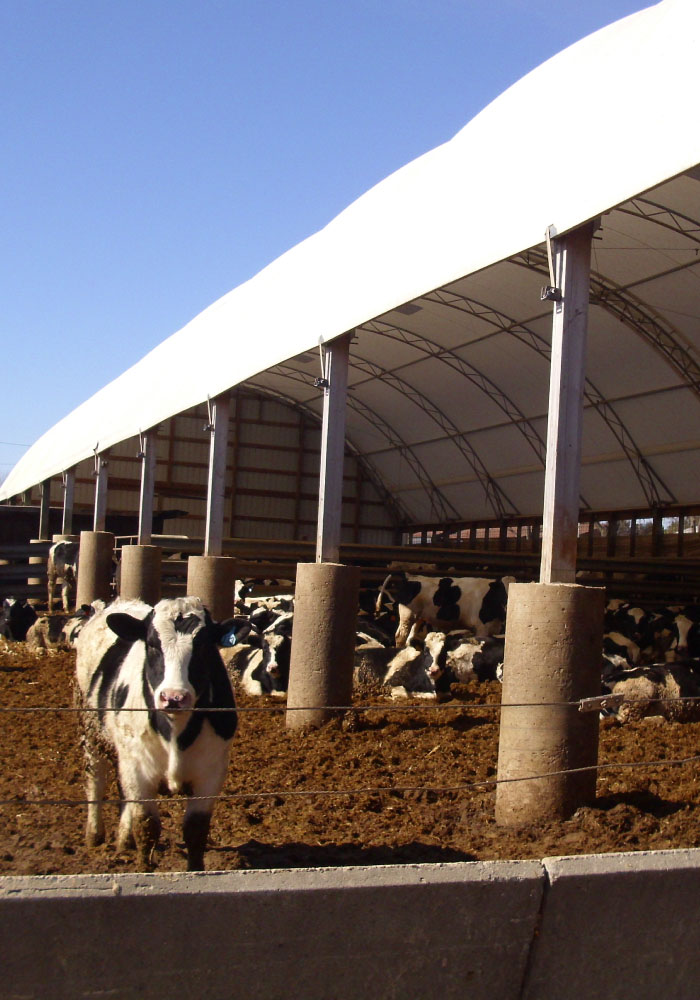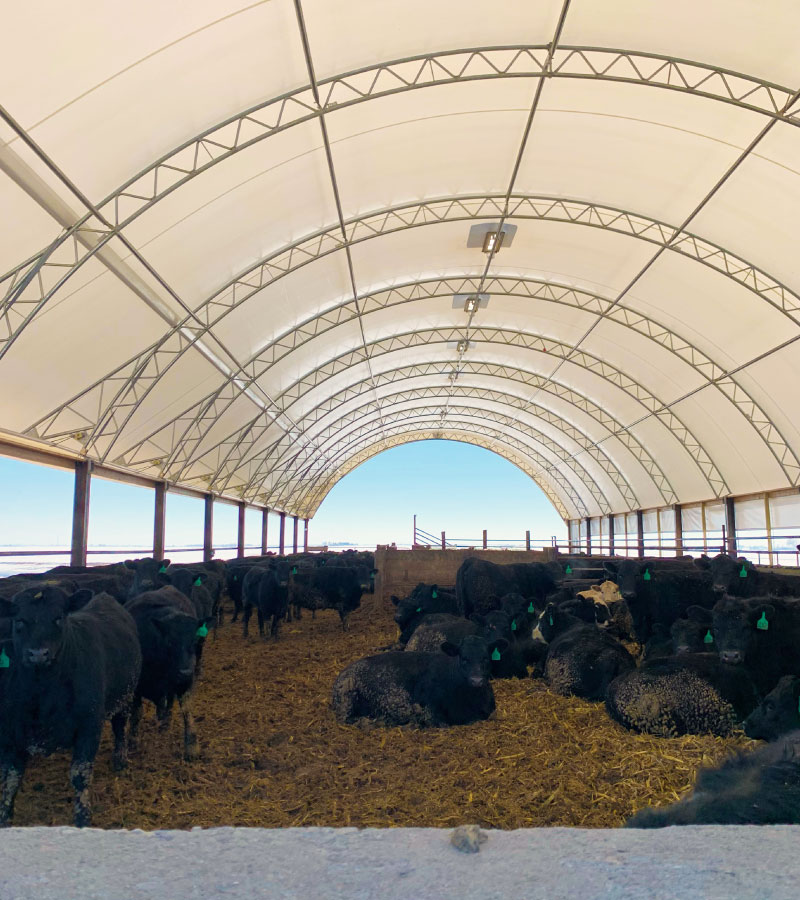 As you all know, fertilizer doesn't exactly smell like roses. To help with the smell, our buildings are designed to provide plenty of ventilation to help cut down on the smell while keeping your fertilizer protected from the elements. This ventilation can also help reduce moisture from building up inside your building.
Our buildings are specially designed to withstand the elements during all seasons and come with several other benefits.
Some of the other benefits are:
Protection from Harsh Weather
Protection from Moisture
Protection from Insects
Protection from Wildlife
Our team can provide you with more information about how important ventilation is for your fertilizer storage. Contact one of our fabric building experts today.
At Freedom Buildings, we use high-quality fabric for our fertilizer storage buildings. Our fabric is specially designed to be easy to maintain while also being durable and cost effective.
Our fabric covers also block out harmful UV rays while providing some of the benefits of natural light. Allowing some natural light into your fertilizer building not only provides a better working environment but also cuts down on energy costs.
Additionally, we treat the steel frame used in construction to prevent corrosion and help to maintain the structural integrity of your building for decades to come.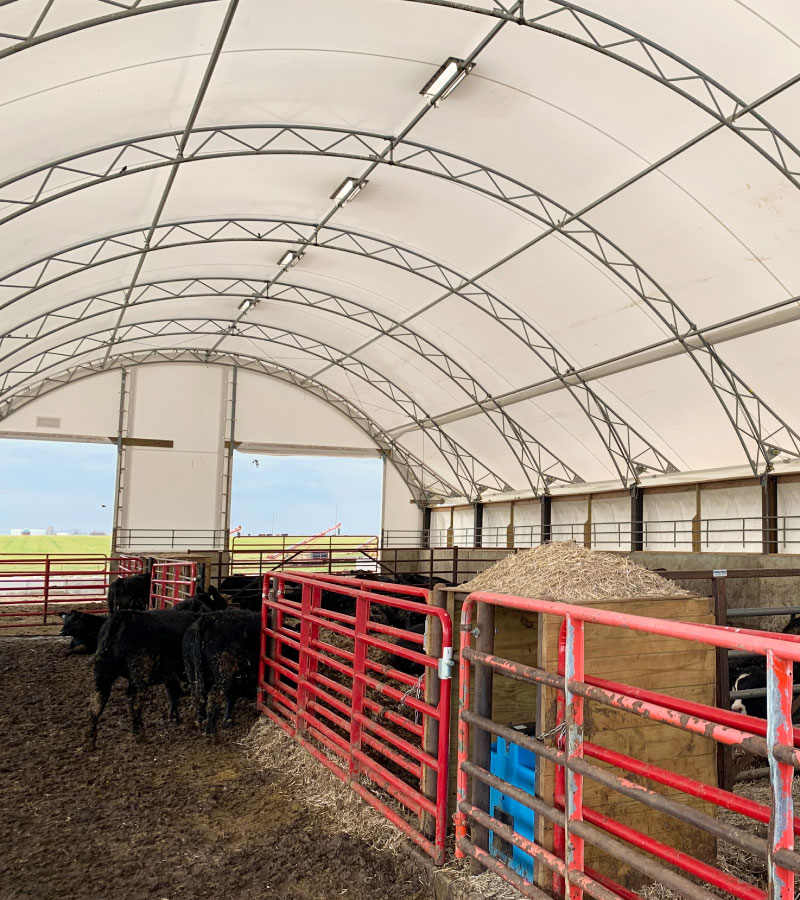 WHAT OUR CUSTOMERS SAY...
"I am very satisfied with my Freedom hoop building put in about a year ago. It stood the test when Derecho wind hit last summer. Very well constructed. I would build one like it again."
"Tom and Freedom Buildings were great to work with. They kept us informed from the very beginning all the way to the end. The process was very simple, and we couldn't be happier with the quality of materials and the work performed."
"Our hoop barn has been a life saver. We used this structure essentially all year round. We calve in the early spring and it helps eliminate the struggles of mud, snow, and severe winds we experience in Iowa. We also work all our cattle in our working facility inside the hoop. This has made our life easier and safer because it's dry and well lit. We simply wouldn't be able to run as many cows without this building."
INTERESTED IN YOUR OWN FABRIC BUILDING FOR FERTILIZER STORAGE?
You have questions, we have answers.
Our team of experts are here to answer any additional questions you may have about our livestock barns options.
To contact our team of experts, you can either complete the form here or call our office at (319) 777-8093.