FABRIC BUILDINGS | HOOP BUILDINGS
Regardless of the size or amount of farm equipment storage you need, Freedom Buildings is here to create the perfect storage space for you.
With our confinement experts, you have the options to customize the foundation, length, width, profile, and interior layout to best fit YOUR needs.  There are many variables in designing a turn-key facility and we make sure that you get what works for YOU.
Since you can customize so much of your hoop building, you have the ability to create a livestock barn that truly fits within your budget. Our experts are here to help you pick the best options.
Freedom Buildings not only helps you develop the outside of your building but the interior as well. This means we'll help coordinate everything from fencing, pen layout, walls, doors, feeding troughs, and more.
WHY CHOOSE A FABRIC BUILDING FOR FARM EQUIPMENT STORAGE?
Farm equipment can be large, bulky, and difficult to store. Our farm equipment storage buildings have a few unique building characteristics that make it especially effective for equipment storage. These natural buildings characteristics include, but aren't limited to a clear span space, large openings, weatherproof interior, and durability that lasts for decades. It's the perfect solution for any of your farm equipment storage needs.
At Freedom Buildings, we use no interior columns in our fabric farm equipment storage buildings. This provides you with a clear span space to accommodate any equipment that you need to store, and also provides large entry points with high ceilings so that you can store large equipment.
Here are a few examples of farm equipment that will fit in our fabric storage buildings:
Tractors
Combines
ATVs
Plows
Harrows
Fertilizer Spreaders
Seeders
Balers
Wagons
Trailers
And so much more!
Don't see your farm equipment listed? No problem! We can help you to plan the perfect space to accommodate any farm equipment.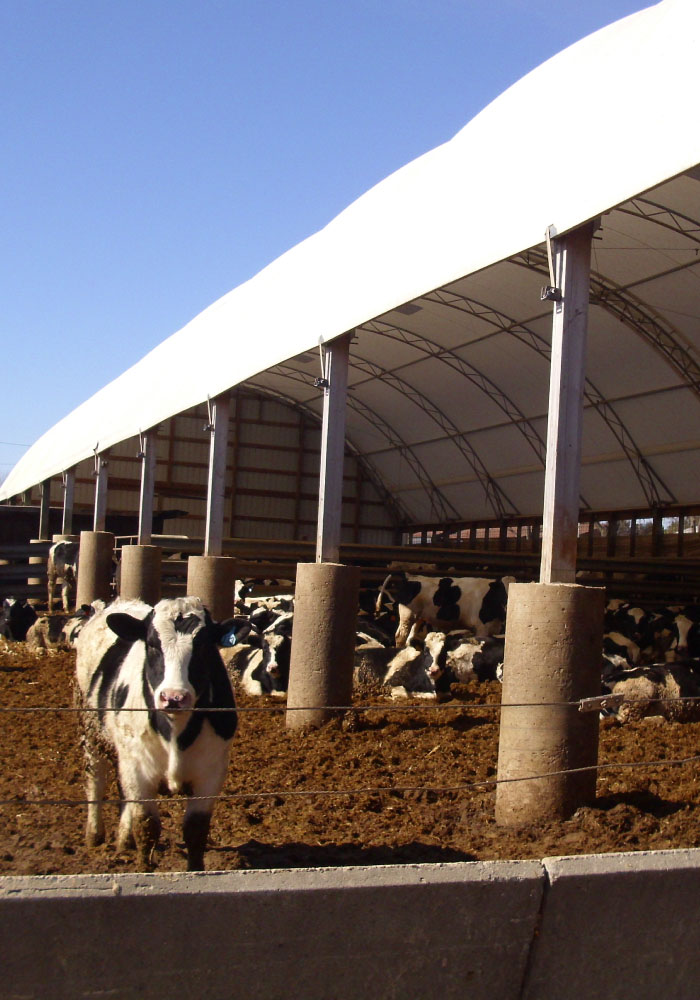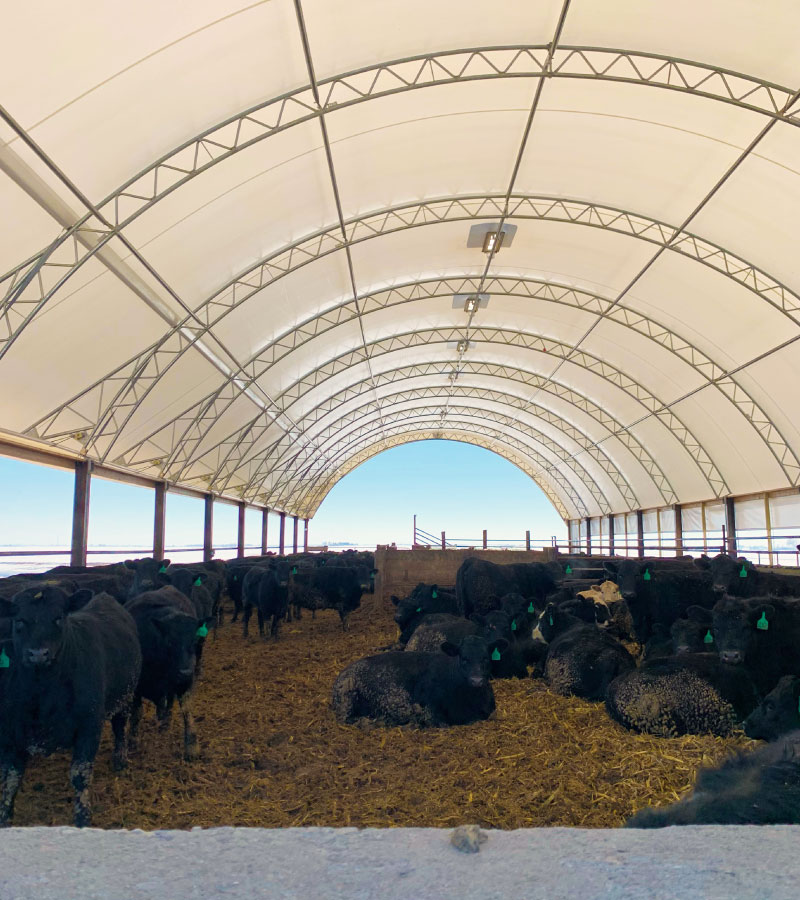 Our buildings are built to last for decades. To accomplish this, we use the highest-quality materials during the construction of our buildings. We ensure that these materials are not only durable but also cost effective and easy to maintain.
These high-quality materials include fabric covers that are highly durable and built to withstand any weather conditions.
Additionally, we also treat all our metal frames used in construction with a hot dip galvanized mixture to prevent corrosion and maintain the structural integrity of your building for decades.
One of the best features of a fabric building is that you can customize multiple elements of your farm equipment storage building.
This is important because it gives you the ability to design a farm equipment storage building that fits perfectly within your budget.
Additionally, fabric buildings provide added benefits, such as increased natural light and ventilation that reduce your energy expenses throughout the year.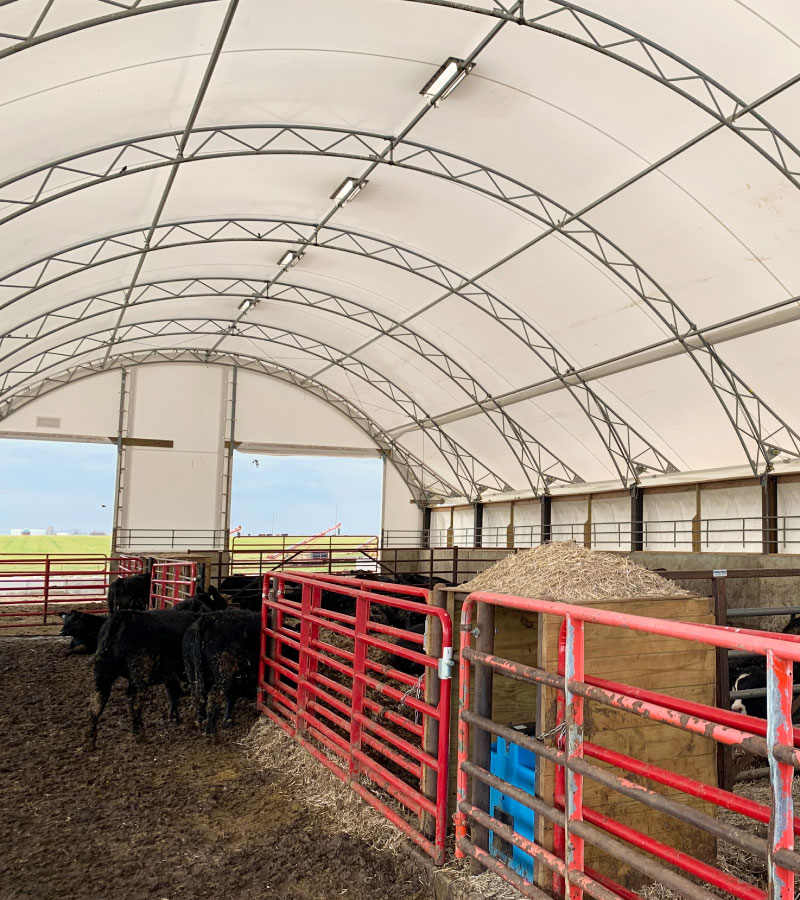 WHAT OUR CUSTOMERS SAY...
"Our hoop barn has been a life saver. We used this structure essentially all year round. We calve in the early spring and it helps eliminate the struggles of mud, snow, and severe winds we experience in Iowa. We also work all our cattle in our working facility inside the hoop. This has made our life easier and safer because it's dry and well lit. We simply wouldn't be able to run as many cows without this building."
"Your crew finished today. They were pleasant and VERY efficient. They kept me informed and were a pleasure to work with. I would highly recommend them anytime. I do not say this lightly as I have over 40 employees and believe me it is hard to find good people."
"Several years ago we contacted Freidman (Now Freedom) because we were very interested in their canvas style arena canopies! They created a beautiful custom design, but also took responsibility for 100% of the management of the construction due to my frequent travel. They stuck to the budget and time schedule and my arena now attracts visitors and interested parties due to its unique and attractive design. Most importantly, the horses love the openness and totally shadow free design. Service has been excellent although rarely needed due to the durability and strength of the overall design. We could not be happier."
INTERESTED IN YOUR OWN FABRIC BUILDING FOR FARM EQUIPMENT STORAGE?
You have questions, we have answers.
Our team of experts are here to answer any additional questions you may have about our livestock barns options.
To contact our team of experts, you can either complete the form here or call our office at (319) 777-8093.