FABRIC BUILDINGS | HOOP BUILDINGS
Freedom Buildings fabric structures provide the ideal environment for your corn storage by keeping your corn dry and protected from the elements.
Our fabric buildings are designed to remain cool in the warmer months and warm in the colder months, which means more comfortable employees and lower energy costs throughout the year.
Fabric corn storage buildings provide plenty of ventilation that keep your buildings dry and eliminates moisture. This provides a safe and ideal environment for your corn storage that is protected from the elements.
At Freedom Buildings, we want to provide you a storage facility that can fit all your current and future needs. Our team can create a 3D model of your building so you can see your perfect building before you buy.
WHY CHOOSE A FABRIC BUILDING FOR CORN STORAGE?
Fabric storage buildings are the ideal space and environment for any storage need. Our fabric buildings provide a clear span space that is protected from the elements, insects, wildlife, and moisture that can damage your corn. Let us take the stress out of storing items and give you peace of mind that your corn is safe and protected in any weather condition.
Fabric corn storage buildings are designed to provide you with the most interior space possible. Our corn storage buildings accomplish this by having no interior column structure, which means you have plenty of space for a variety of storage needs.
Additionally, since you have flexibility over the width and height of the building, we can create a building that can accommodate any equipment that you use. All this combines to make fabric corn storage buildings easier for you and your team to use throughout the year. 
Interested in learning more about what clear span space can do for your storage facility? Contact our professional team today to learn more. We would love to help you start designing your perfect storage building.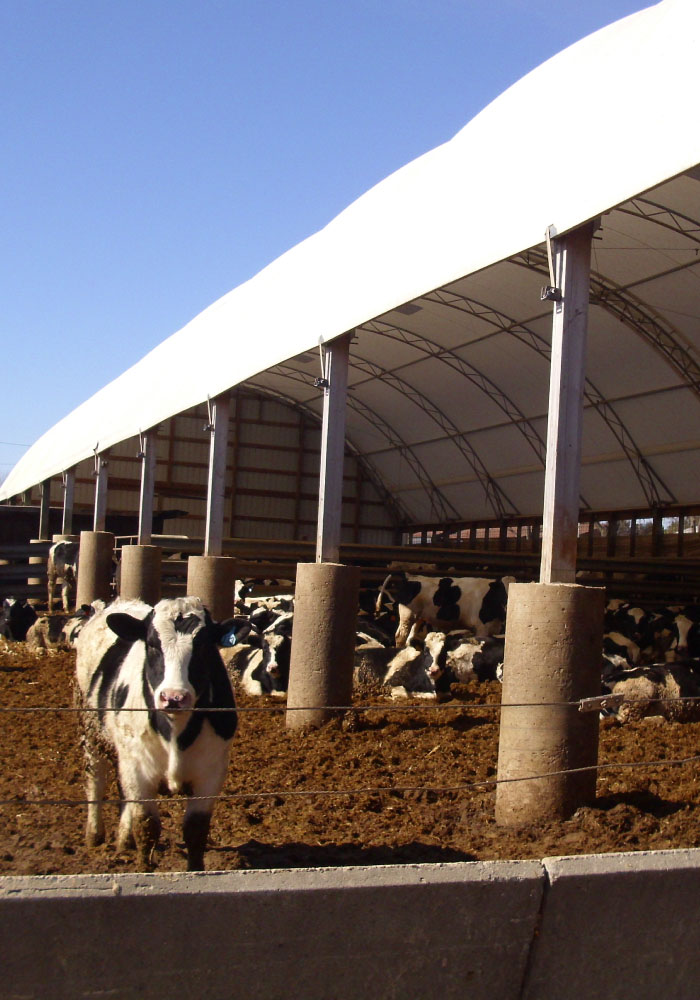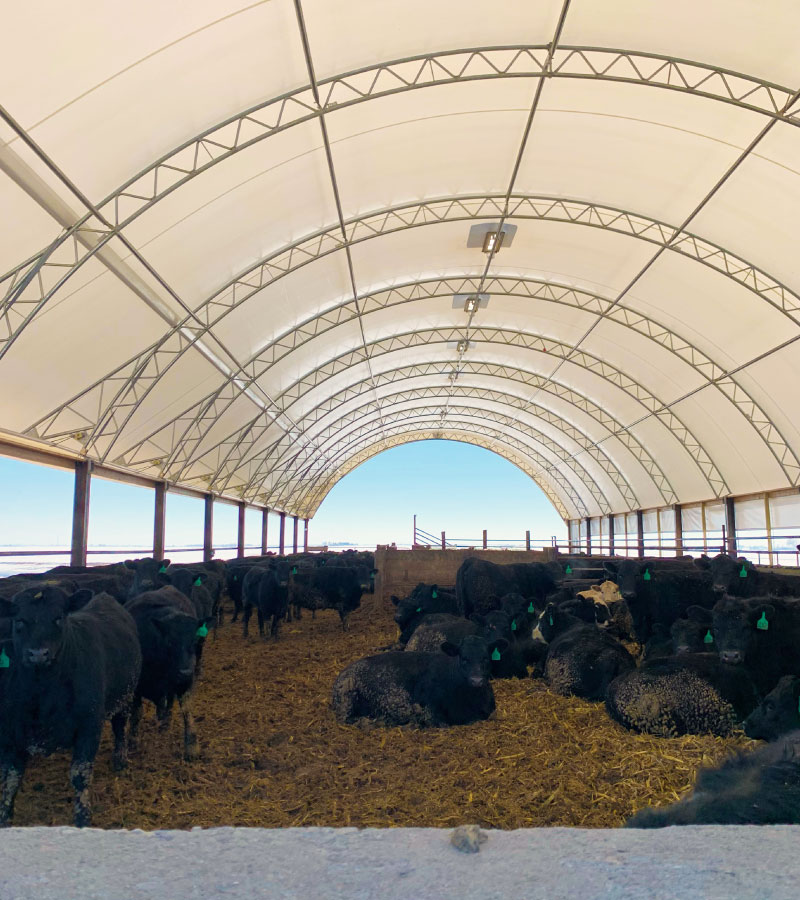 We understand building a new storage facility in an investment. Our goal is to help you find the perfect storage facility, one that meets your needs and your budget.
Since our buildings are fully customizable, we can offer you a variety of pricing options that will fit your budget, while also accommodating all your materials and your equipment.
Additionally, since our buildings provide natural light and increased ventilation, you can experience the lasting benefits of lower energy costs throughout the year. 
Contact our expert team today to learn about all the pricing and financing options available.
We work hard to ensure that your corn storage building can stand the test of time. Our team of engineers has designed our fabric buildings to be durable and reliable while also being affordable and easy to maintain.
Our fabric covers are designed to be tear resistant and strong enough to withstand the harshest weather conditions. Additionally, the framework used in construction is treated with a hot dip galvanized mixture that prevents corrosion and helps maintain the structural integrity of your building for decades.
If well maintained, our fabric corn storage buildings will last for decades.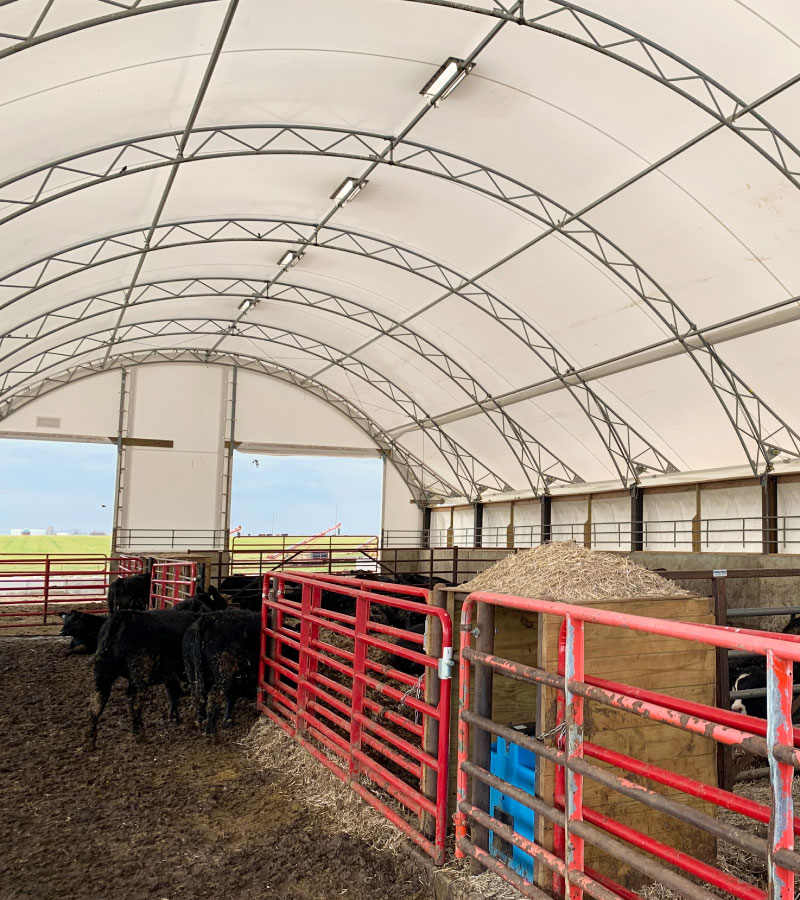 WHAT OUR CUSTOMERS SAY...
"Your crew finished today. They were pleasant and VERY efficient. They kept me informed and were a pleasure to work with. I would highly recommend them anytime. I do not say this lightly as I have over 40 employees and believe me it is hard to find good people."
"I purchased a Hoop Building from Freedom Buildings in 2019. The folks are affable and easy to work with. The construction and quality hold up extremely well under adverse conditions, especially wind. I highly recommend these buildings for all kinds of weather conditions."
"I am very satisfied with my Freedom hoop building put in about a year ago. It stood the test when Derecho wind hit last summer. Very well constructed. I would build one like it again."
INTERESTED IN YOUR OWN FABRIC BUILDING FOR CORN STORAGE?
You have questions, we have answers.
Our team of experts are here to answer any additional questions you may have about our livestock barns options.
To contact our team of experts, you can either complete the form here or call our office at (319) 777-8093.