FABRIC BUILDINGS | HOOP BUILDINGS
Freedom Buildings specializes in developing customized cattle barns that promote a healthy and productive environment for your herd.
Freedom Buildings specializes in building customized cattle barns design to fit your needs. We can even provide a 3D model of your building before you buy.
Not only can we help you customize the structure of your cattle barn, but we can also coordinate everything from fencing, pen layouts, walls, doors, feedings troughs, and more.
With over 30 years of experience working with the cattle industry, we know exactly what it takes to create a safe and efficient environment for you and your cattle.
WHY CHOOSE A FABRIC CATTLE BARN?
Not only does your cattle barn play a huge role in the health and productivity of your cattle, but it also plays a huge role in your day-to-day efficiency. Fabric cattle barns (hoop buildings) are designed specifically to help the cattle industry. Fabric cattle barns do this by increasing space, ventilation, and sunlight for all your cattle, while also making it easier for you to feed and manage your cattle. It's the perfect cattle barn that will increase rate of gain, decrease input cost, and decrease bedding cost.
At Freedom Buildings, we understand the health of your cattle comes first. Our fabric buildings are designed and developed to create a stress-free and healthy environment for all your cattle. We focus on creating this perfect environment so you can experience an increase in productivity.
The health benefits of a fabric building include:
Natural light
All our covers provide a healthy amount of natural light while providing UV protection to your herd.
Ventilation
Fabric buildings are designed to circulate air in both sides and out the peak to remove moisture and keep a dryer bed pack for your cattle.
Rate of gain
Fabric buildings are proven to produce better rate of gains on less feed.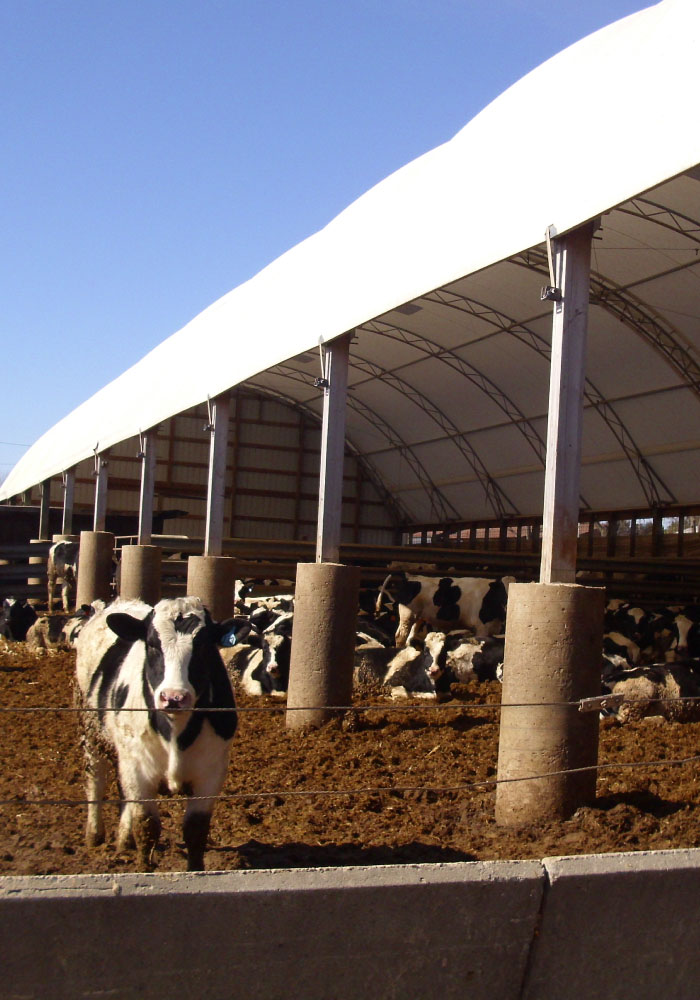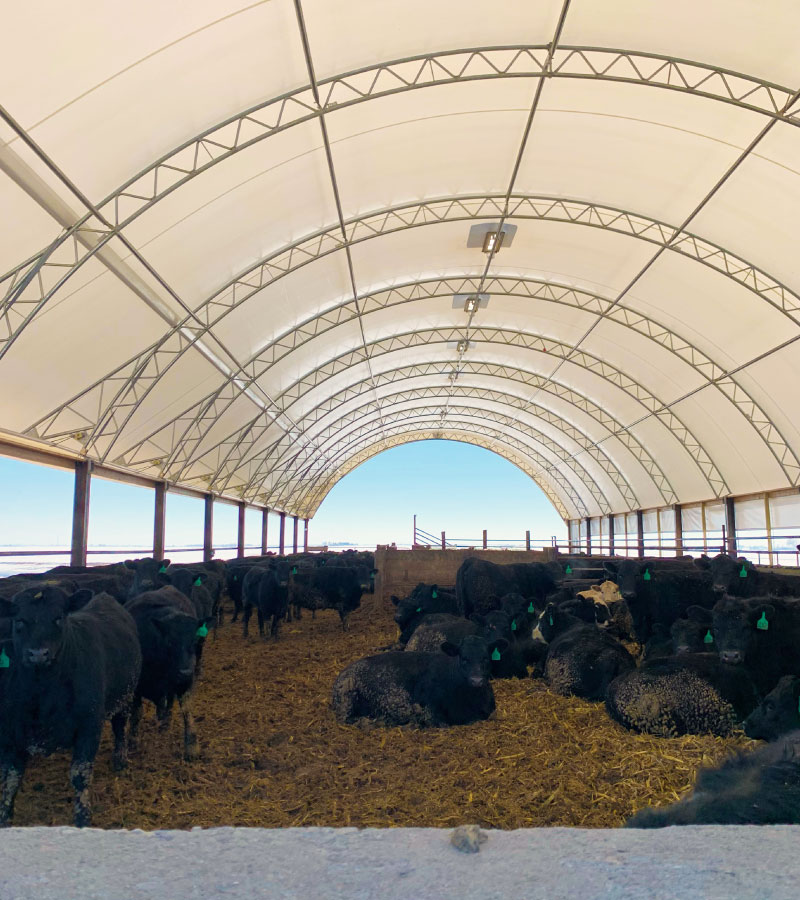 We understand pricing can't be ignored when building a new cattle barn. Of course, you want the best for your cattle, but it needs to make sense financially.
Our cattle barn experts will work with you one-on-one to build a customized pricing package designed around your needs.  
In other words, we will walk you through all the available options to fulfill your needs and stay within your budget.
It's important to note, all our buildings are designed and developed to match our high-quality standards, you'll always get an incredible cattle barn from Freedom Buildings. 
Freedom Buildings provides many different customizable options for your cattle barn. We understand that your needs are unique, and we work with you to create the perfect fabric building to fit those needs.
Our customizations include:
Sizing
Building Profile
Expansions
Cover Material
Foundation Options
Interior Items
Working Facilities
Manure Storage
We can even create a 3D model of your building so you can see exactly what it will look like before you buy. Let our team help you get what you want and what your cattle needs.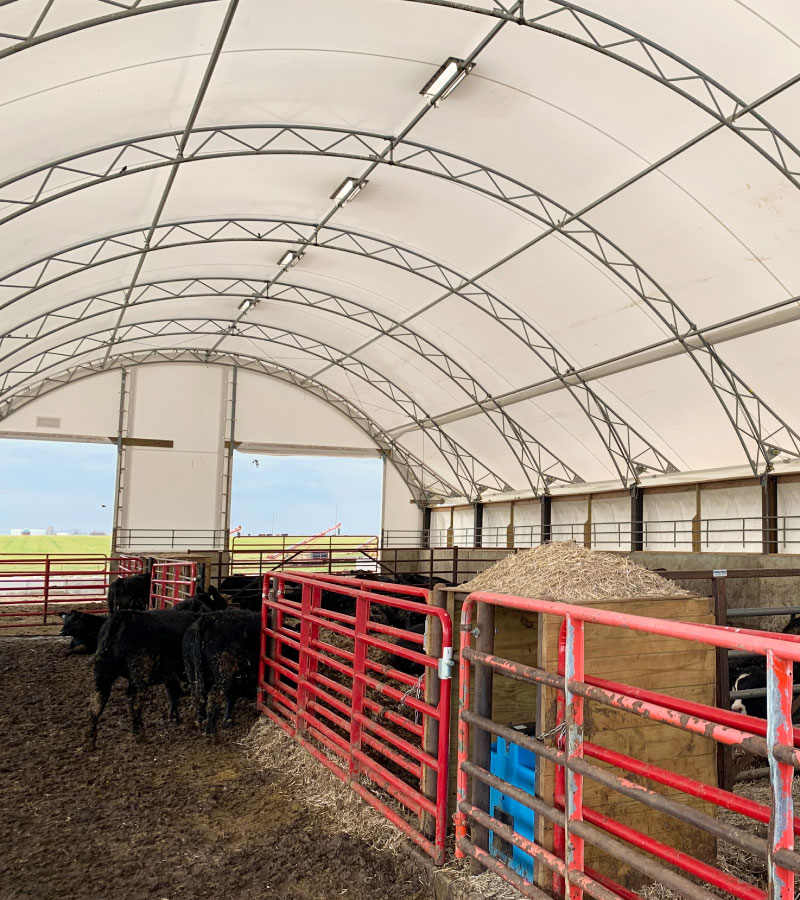 WHAT OUR CUSTOMERS SAY...
"Our hoop barn has been a life saver. We used this structure essentially all year round. We calve in the early spring and it helps eliminate the struggles of mud, snow, and severe winds we experience in Iowa. We also work all our cattle in our working facility inside the hoop. This has made our life easier and safer because it's dry and well lit. We simply wouldn't be able to run as many cows without this building."
"I purchased a Hoop Building from Freedom Buildings in 2019. The folks are affable and easy to work with. The construction and quality hold up extremely well under adverse conditions, especially wind. I highly recommend these buildings for all kinds of weather conditions."
"I am very satisfied with my Freedom hoop building put in about a year ago. It stood the test when Derecho wind hit last summer. Very well constructed. I would build one like it again."
INTERESTED IN YOUR OWN CATTLE BARN?
You have questions, we have answers.
Our team of experts are here to answer any additional questions you may have about our cattle barns options.
To contact our team of experts, you can either complete the form here or call our office at (319) 777-8093.